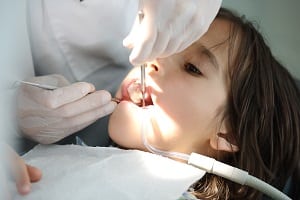 5 Tips for Soothing Your Child's Dentist Phobias
June 16, 2018 ABC Children's Dentistry
The scientific name for anxiety about visits to the dentist office is dentophobia, and the American Dental Society acknowledges that it keeps about 10% of the U.S. population from seeking dental care. However, it doesn't have to be this way.
Because dental health can mirror your child's overall health, it's vital that you do what you can to ease any concerns about seeing the dentist.
In this issue, we'll share a few tips for how you can soothe your child's anxiousness.
Tips for Overcoming Your Child's Fear of the Dentist
Establish your child's dental home early.

We've talked before about the importance of your child seeing a dentist by the time of the first birthday or when the first tooth is visible. In addition to the dentist being able to get an early look at any potential dental problems, your child learns at an early age that going to the dentist is merely a part of maintaining good health.|

Keep your pep talk simple.

Talk to your child about going to the dentist's office, but try to avoid words that could cause a negative reaction. Refrain, for example, from using words like drill, shot or needle. Focus instead on positive words in kid-friendly terms, like "healthy, strong and clean."

Avoid using sugary treats as bribery.

You can anticipate a bit of fussing but try your best to refrain from offering candy or other sugary sweets as a reward. Many parents find that praising their child and offering a sticker or toy for good behavior and bravery is a good option.

Choose a kid-friendly dentist.

Pediatric dentists are uniquely qualified to provide the environment and dental treatment for children. Most pediatric dentist offices feature kid-centered decorations and activities to calm the nerves of their patients.

Conduct a "make believe" dentist office visit at your home.

Put your child's imagination and love for make-believe to good use by having a pretend dentist office visit in your home. Let your child play the role of the dentist, and cast their favorite stuffed animal as the patient.
Ready to schedule your child's first dental appointment? Call ABC Children's Dentistry in San Diego

We're all about introducing, creating and delivering dental care to your child in a gentle, non-threatening and fun environment. Our customized approach will fit the unique individual dental needs of your child.
Call us at 858-780-9794, send us an email or reach us online.