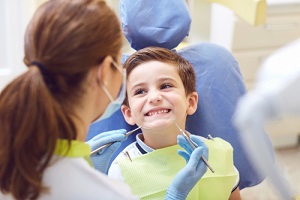 3 Compelling Reasons to Select a Pediatric Dentist
June 21, 2019 ABC Children's Dentistry
When it comes to selecting your child's dental health care home, it pays to be picky. That's because not all dentists are equally prepared to treat children specifically.
In this issue, the San Diego child dentist experts at ABC Children's Dentistry will explain why it's vital to select a pediatric dentist over a general practice dentist for your child's oral health.
Specialized training that general practice dentists simply do not have.
Even though they both provide oral health services, pediatricians and general practice dentists are not on equal ground when it comes to treating children.
Pediatric dentists undergo special training, which enables them to diagnose and treat dental problems unique to children – from their infant years until they reach their teens.
Pediatric dentists are also better equipped to understand the behaviors of children, and provide ways for making them feel more comfortable – particularly on their first visit to a dentist's office.
The office environment is designed specifically for children.
Because a primary goal of a pediatric dentist is for your child to feel "at home," the office setting is very different from that of a general practice dentist. Rather, the emphasis in on fun, and here at ABC Children's Dentistry, we've fully embraced this approach.
Here, you'll find bright colors, toys and games to put you child at ease, and join in the fun.
Establishing a life-long plan for preventative care.
Pediatric dentistry experts like the ones here at ABC Children's Dentistry will go to great lengths to provide you with the advice and teaching you need to help your child establish and maintain good oral health habits, including techniques for brushing, flossing, and brushing.
To get your child on the road to good oral health, schedule an appointment by calling ABC Children's Dentistry in San Diego
While it's on your mind, get in touch with us now to schedule your child's appointment. We provide customized care that is skilled and fun!
Our number is 858-780-9794 or you can reach us via email. Also, you can reach us online.