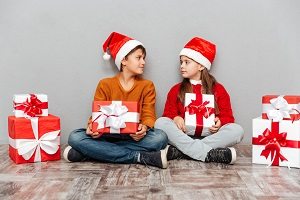 5 Ways To Protect Your Child's Teeth During The Holidays
December 01, 2017 ABC Children's Dentistry
As we enter a holiday season rife with cookies, sugar and candy canes, parents need to be aware of and limit the risks to their child's teeth. In this issue, we'll share tips for keeping your children's teeth healthy, clean and as cavity-free as possible.
Brush each time after eating a sugary food.
While the American Dental Association encourages us (children and adults alike) to brush our teeth and gums at least twice daily for two minutes, we need to step up our efforts during the holiday season – especially after eating desserts.
Be wary of candy canes and other hard candies.
Biting down on hard candy the wrong way can easily crack your child's teeth. Encourage your child to let the candy dissolve in his/her mouth so that chipping and other damage will be limited. A good alternative is to replace candy canes with sugar-free gum.
Stay away from sodas.
We've talked before about how bad sodas can be for your child's teeth. With plenty of holiday parties going on this time of year, you can bet sodas will be a temptation to contend with.
Serve desserts with the meal.
Rather than holding onto them until the end of the meal, including desserts into the meal itself. Doing this enables the more healthy food to help displace the sugar from your child's teeth and assists with counteracting the acids from the sugar.
Schedule an appointment with your child's dentist.
Because your child will most likely be out of school for much of the holiday season, make good use of the time by scheduling an appointment for a cleaning and a checkup.
For compassionate and fun pediatric dental care in San Diego, call ABC Children's Dentistry.
Here at ABC Children's Dentistry, we're committed to providing dental care in a gentle, non-threatening, child-friendly and fun environment.
To schedule an appointment for your child's dental care, give us a call! Our number is 858-780-9794. Also, you can reach us online and via email.