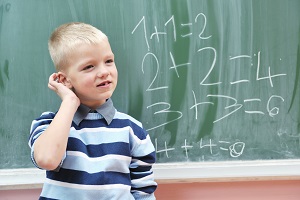 Are Poor Oral Health and Poor School Grades Connected?
November 23, 2018 ABC Children's Dentistry
With the 2018-2019 school year now in full gear, it's important to remind parents about the correlation between poor oral health and lower grades.
In this issue, the San Diego child dentist experts with ABC Children's Dentistry will share findings from a study that confirmed the importance of healthy teeth and gums, especially for students and share ways to keep your child on track with good oral health.
Will poor oral health lead to bad grades?
While poor oral health alone does not lead directly to low grades in school, there is a connection. Researchers with the Ostrow School of Dentistry at the University of Southern California published a study linking oral health problems with missed school days.
For the study, researchers examined 1,500 elementary and high school students in the Los Angeles Unified School District. Those who reported tooth pain were more likely to have lower grade-point averages (GPAs) than those without tooth pain.
How can poor oral health contribute to bad grades?
The most obvious way is for the oral pain to lead to missed school days. In the USC study, students with dental problems reported missing over two days of schoolwork, and their parents were forced to miss time at work.
Another contributing factor found in the study was the limited access to dental care experienced by some participants due to socioeconomic factors.
How can I make sure my child has good oral health during the school year?
Life gets busy in a hurry for most families, but it definitely pays off, in the long run, to make sure your child's oral health is strong.
To do that, be proactive by making sure your child:
Brushes and flosses regularly, and does both the right way
Sees a pediatric dentist on a regular schedule, and has professional cleaning that will remove plaque and help detect tooth decay earlier
Uses fluoride toothpaste
Knows about sealants
For Compassionate and Fun Pediatric Dental Care, Call ABC Children's Dentistry in San Diego

To make sure your child stays on track with good oral health habits, make an appointment here at ABC Children's Dentistry in San Diego. Our number is 858-780-9794. Also, you can reach us online and via email.