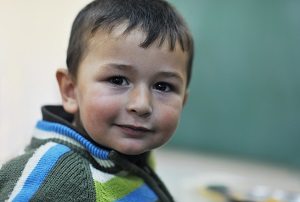 Are Dental X-Rays Safe For Your Child?
August 11, 2017 ABC Children's Dentistry
The American Dental Association and the Food and Drug Administration have recommended that preschoolers at high-risk of having cavities in their baby teeth should have X-rays carried out once every 6-12 months. Parents of preschoolers who haven't had a problem with cavities, however, are encouraged to have X-rays completed once every 1-2 years.
In this issue, we'll talk more about the need for X-rays when it comes to pediatric dentistry, what they accomplish and the safety of having them done.
Why should I have X-rays of my child's teeth?
Children, in fact, need dental X-rays more often than adults because children's' mouths grow and change more rapidly.
The X-rays themselves provide the dentist with a detailed look of your child's mouth and jaw structure. This scope is crucial for detecting, for example, things like erupting teeth or possible bone diseases, as well as being able to map out a plan for orthodontic treatment and other forms of preventative and corrective care.
In other words, X-rays allow your child's dentist to identify, diagnose and treat conditions that can't be detected during routine examination.
For example, X-rays can help your dentist to:
Identify the presence of family dental anomalies
Evaluate injuries to your child's teeth
Determine if your child's teeth have bone loss
Locate cavities between and on your child's teeth 
How often should my child have dental X-rays made?
Because every child is different, the frequency of X-rays is determined solely by your child's specific needs. Rest assured that the X-rays themselves are taken only after your child's medical and dental histories have been analyzed. 
How safe are dental X-rays?
While it's true that X-rays will expose your child to an extremely small dose of radiation, the risks associated with X-rays is smaller than undetected – and untreated – dental problems.
For Compassionate and Fun Pediatric Dental Care, Call ABC Children's Dentistry in San Diego
To schedule an appointment for your child's dental care, call ABC Children's Dentistry here in San Diego.
Our number is 858-780-9794. Also, you can reach us online and via email.