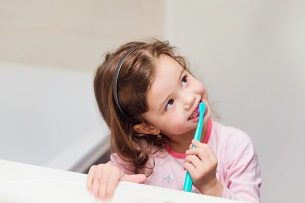 4 Ways For Maintaining Oral Hygiene During Your Child's Summer Break
May 25, 2018 ABC Children's Dentistry
The school year will be ending soon. In fact, the last day for classes here in San Diego is Friday, July 20. For many families, summertime means that schedules will soon turn topsy-turvy with vacations and weeklong all-day playtimes for the kids.
Because summertime fun can get in the way of daily routines, in this issue we'll share tips for maintaining your family's good oral hygiene.
Tips for Maintaining Good Oral Health During the Summer
Book a dental checkup for your child.

August – right before the new school year begins – seems to be the most popular time for parents to schedule their child's dental checkup. However, the end of the school year is the ideal time to have the checkup with a San Diego Dentist. This way, any potential dental problems your child may have can be identified and taken care of before the summer vacation begins.

Stock-up on teeth-friendly goods in the kitchen.

When your children are inside or outdoors playing all day, they're going to want to eat. Keep plenty of fruits and vegetables on-hand and have plenty of bottled water – and as little soda as possible.

Pack a dental first aid kit.

No matter how careful you are, accidents are prone to happen. Dental first aid kits are small and inexpensive, and have practically everything you need in the event of a dental emergency.

When your child has a dental emergency, it's typical for parents to panic. You can prevent this from happening to you by reading our recent blog about learning to treat your child's dental emergency.
For compassionate and fun pediatric dental care in San Diego, call ABC Children's Dentistry.

We're all about making sure your child's teeth are healthy and strong. Since each child is different, our approach is customized to fit the unique individual dental needs of your child.
Our number is 858-780-9794. In addition, you can reach us online and via email.