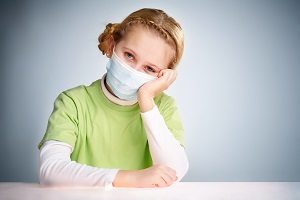 Why Oral Health Is So Important During Flu Season
February 02, 2018 ABC Children's Dentistry
We're in the midst of another flu season, and this year's version is definitely making its presence felt. According to officials with the Centers for Disease Control and Prevention, this year's flu season seems especially rough because the entire continental U.S. has reported flu symptoms during the same week – the first time that's happened in 15 flu seasons.
In this issue, we'll share tips for best practices of how you and your child can take care of your mouth when the flu – or any other bug – gets you down.
How can taking care of my mouth help me feel better?
There are a host of rather nasty things that can occur with your teeth when you're sick. For example, vomiting – while compulsory and necessary – will bring your teeth in direct contact with stomach acids.
Here are steps you can take to keep your and your child's oral health on track during flu season.
Go sugar-free with the cough drops.
Many cough drops contain sugar, and sugar is a top contributor to cavities. Take the time to examine the label of cough drops, and be wary of those containing corn syrup or fructose.
Take your time before brushing after vomiting.
The taste left in your mouth is truly icky, and you'll probably want to brush your teeth immediately afterward. But wait just a few minutes, because the stomach acids that have found their way into your mouth are coating your teeth.
Rather than brushing immediately, which will merely rub the acid all over the outer shell of your teeth, swish a bit of water in your mouth before spitting it out. Wait about 30 minutes before brushing your teeth.
Stay hydrated and avoid having a dry mouth.
Practically any doctor will tell you how important it is to drink plenty of liquids when you're not feeling well. The safest beverage of choice is water.
Stay healthy this flu season, and for expert, quality pediatric dental care in San Diego, call ABC Children's Dentistry.
We hope you and your children make it through the flu season unaffected. In times of sickness, however, be sure to follow the steps above for good oral health.
If you're looking for a dental care provider for your child, you should know that here at ABC Children's Dentistry, we're committed to providing customized, caring and fun dental care for your child.
To schedule an appointment, call us 858-780-9794 or get in touch with us via email or online.