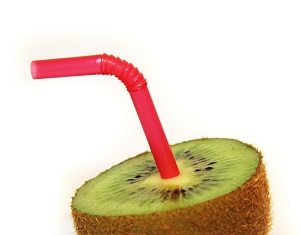 Why You Shouldn't Be Giving Your Child Fruit Juice
July 17, 2017 ABC Children's Dentistry
The American Academy of Pediatrics (AAP) caused a bit of a stir recently when it announced recommendations of no fruit for children under 1 year.
In this issue, we'll explore the AAP's recommendation and talk more about suggestions for daily juice intake for older children.
Why does the American Academy of Pediatrics recommend no fruit juice for children under 1 year?
The AAP has been against fruit juice for toddlers for quite some time, and previously recommended no fruit juice for children under 6 months. Their new recommendation expanded the time frame to include all of the child's first year.
The thinking behind this is the high level of sugar content found in juice, which can lead to increased calorie consumption and tooth decay.
Providing juice from bottles or sippy cups can result in your child being given a steady supply of sugar-filled juice for well over an hour. This can easily lead to "baby bottle tooth decay," a condition we talked about in a previous issue.
What should my child be drinking?
For children under 1, the best things to drink are water and skim milk.
For children older than 1, the AAP offers the following recommendations:
Age
Daily Juice Recommendation
1-3 years

A maximum of 4 ounces (1/2) cup
Don't allow child to carry cup or juice box throughout the day

4-6 years

4-6 ounces (1/2 cup to 1/3 cup)
Don't allow child to carry cup or juice box throughout the day

7-18 years
How can I get my child to eat more fruits and vegetables?
There are a number of ways you can encourage your child to eat more fruits and veggies, including:
Providing fruits and veggies as a snack and keeping them in plain sight within the refrigerator
Serving salads more often
Including at least one vitamin-C packed fruit or veggie (orange, grapefruit, melon, tomato, strawberry) each day
Giving your child a good role model to follow by eating more fruits and veggies yourself
Eating together as a family whenever possible
For Compassionate and Fun Pediatric Dental Care, Call ABC Children's Dentistry in San Diego
To schedule an appointment for your child's dental care, call ABC Children's Dentistry here in San Diego.
You can reach us online, via email or call us at 858-780-9794.