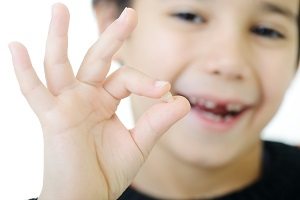 Is The Tooth Fairy Paying More?
August 08, 2017 ABC Children's Dentistry
Maybe its because she's in a good mood these days or its an unlikely sign of an improving economy. Whatever the reason, recent reports tell us that the Tooth Fairy is feeling far more generous.
We'll talk about it in this issue.
How much is the Tooth Fairy giving for a tooth these days?
While it depends upon where you live, the national average Tooth Fairy payout today is $4.66. That's a 75-cent increase over 2015.
The average Tooth Fairy payout here in California is $5.96 ($6.89 for a first tooth). That's followed by $5.08 ($6.31) in the Northeast; $4.57 ($4.88) in the South; and $4.04 ($5.70) in the Midwest.
How much does the Tooth Fairy give out overall?
In 2016, the Tooth Fairy dolled out about $290.6 million for lost teeth during visits to about 85% of U.S. households.
Is it true that the Tooth Fairy payouts are a good indicator of the U.S. economy?
It sure is! In fact, a yearly poll says that growth in Tooth Fairy payouts closely follows growth in the S&P 500. This year's poll indicates that the Tooth Fairy is once again right on target.
Are there other goodies generated by a Tooth Fairy visit?
According to Jennifer Elliott, vice president of marketing for Delta Dental, the Tooth Fairy is renowned for stimulating lessons about finance and good oral health.
"Having conversations with children about good oral health habits, from an early age, can help establish strong habits for a lifetime, and the Tooth Fairy can be a great way to help spark those conversations," she said.
Delta Dental research has shown an even split among children who save (48%) and spend (48%) their Tooth Fairy money.
For Compassionate and Fun Pediatric Dental Care, Call ABC Children's Dentistry in San Diego
To schedule an appointment for your child's dental care, call ABC Children's Dentistry here in San Diego.
You can reach us online, via email or call us at 858-780-9794.