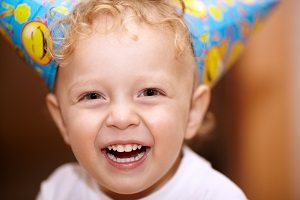 What's Causing White Spots On Your Child's Teeth?
March 30, 2018 ABC Children's Dentistry
While white teeth are generally a good sign of healthy teeth, white spots can be an indicator that there are some problems going on.
In this issue, we'll talk about what could be causing white spots to appear on your child's teeth and what should be done about it.
What do white spots on my child's teeth mean?
Any disruption to the development of your child's teeth can trigger the development of white spots on the surface. We're talking specifically about a shade of white that's obviously different from the appearance of the rest of your child's teeth.
As for what the white spots are a sign of, the National Institute of Dental and Craniofacial Research confirms a number of potential causes for their development on your child's teeth.
Enamel Hypoplasia.
A sign of a less than normal supply of enamel, enamel hypoplasia can arise from a nutritional deficiency. A number of things, including antibiotics that interfere with the absorption of nutrients and the mother smoking while with child, can cause this.
Too much fluoride.
In the spirit of "too much of a good thing," too much fluoride can cause a pitted enamel, making it more difficult to keep your child's teeth clean, and resulting in decay and discoloration.
Accumulation of plaque.
Failing to brush and floss on a regular basis can lead to a significant buildup of plaque, which shows itself in the white spots. The spots can also appear when braces have been removed and reveal areas of plaque buildup.
Dehydration caused by sleeping with mouth open.
When we sleep with our mouths open, white spots can appear on our teeth from the enamel drying out. If this is the case with you or your child, you should see the white spots disappear once saliva fills the mouth.
What should I do if I see white spots on my child's teeth?
The smart move is to call your child's dentist as soon as you notice white spots. In addition to treatment to address the potential problem, a good polishing is a quick way to providing the cosmetic look you desire.
For compassionate and fun pediatric dental care in San Diego, call ABC Children's Dentistry.
Our commitment to you is making sure your child's teeth are healthy and strong. Since each child is different, we customize an individual approach to healthy teeth for each patient.
Our number is 858-780-9794. Also, you can reach us online and via email.