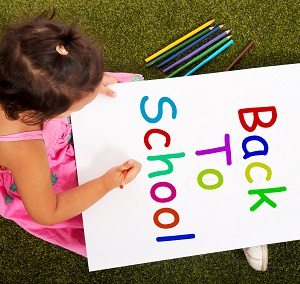 A Back to School Strategy For Your Child's Teeth
August 18, 2017 ABC Children's Dentistry
A new school year is upon us! As you prepare your child for a year of learning, it's crucial that you not let him or her take a step back when it comes to healthy teeth.
In this issue, we'll share tips for making sure your child stays on the path to good oral hygiene.
How can my child practice good oral hygiene at school?
Maintaining positive and healthy oral health habits can be done regardless of where your child is. When you're packing school supplies like pencils and notebooks, add a toothbrush, a small tube of toothpaste and dental floss to the kit.
What should I pack for my child's lunch?
The overriding theme is to cut back on sugary foods, snacks and soft drinks. While those sugary foods may taste good, they're not good at all for your child's teeth or body.
Instead, opt for lean meats and poultry, fish, eggs or tofu.
As for snacks, good selections include almonds (raw), apple slices, carrot sticks, grapes, bananas, walnuts and oranges.
A good way to stay ahead of the game is to buy a bag of baby carrots, and place about 3-4 carrots in snack bags for your child for each day of the week. You can store the bags in the fridge for a good grab-and-go snack.
What can I do beyond lunches and snacks to help my child with good oral hygiene?
Commit to bringing your child in for regular dental examinations; this is among the most important things you can do for your child's oral health, and is key to diagnosing, treating and preventing dental problems.
Make sure your child has a properly fitted mouthguard for taking part in sports, PR or playground fun.
For Compassionate and Fun Pediatric Dental Care, Call ABC Children's Dentistry in San Diego
We hope you and your child has a wonderful school year. To get your child off to a fantastic start, go ahead and make an appointment here at ABC Children's Dentistry in San Diego.
We pride ourselves on eliminating any anxiety that children may carry from past experience by introducing, creating, and delivering dental care in a gentle, non-threatening, child-friendly and fun environment.
Our number is 858-780-9794. Also, you can reach us online and via email.